from the desk of Dawna……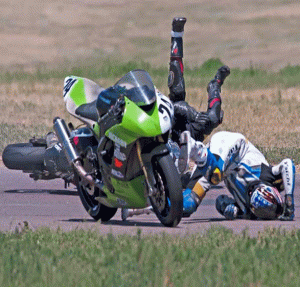 Has life got you feeling a little out of control? 
With all the doom and gloom of the media, it may seem as if life is
racing pass you!  Here are some tips to help you get through the
unexpected crashes in life:
1. When bad news comes speeding towards you; unexpected bills,
declining retirement funds, job loss, whatever the news, keep your eyes
fixed on the road ahead and not on the potential problem. Staying calm and
thinking things through always keeps you "on track".
2. When hit with the unexpected, have a game plan.  And simply not an
"A" game plan but "B" plan and "C" plan if possible.  I have actually used my
"D" plan once or twice.  Discuss with your spouse the worse case scenario
and jointly decide if you can live with that worse case.  If you cannot, figure
out what you can do (within your power) to avoid the worse case scenario.
3. If hit with the worse case scenario, all you can do is put your game
plan in place then tuck and roll.  Using your head in most cases is
recommended!   
4. When all else fails take a quick nap.  You can certainly think more
clearly when rested.  All we are expected to do is, the best that we can do. 
And that is accomplished by being prepared for the worse and expecting
the best.  The truth is, we really are not in control anyway!