from the desk of Dawna…..
from the desk of Dawna……
…… Time to move!
   …So which one of the movers in the cartoon are you?   The one lifting the heavy stuff behind your back while smiling  or the one who feels like they are bearing the whole load?  While moving can be stressful, the reward is great!  A new home  with all sorts of spaces to show off all of your cool stuff is exciting.  However, even those who can handle much can feel stressed out during a move.  So what does one do?  First, let your family and friends help.  It can be difficult to ask for help but leaning on your family and friends in times of need is -well exactly what its all about.  Next, take it easy!  Everything will get in its proper place in due time.  Try to enjoy the chaos!  Once a room is completely done, sit and look at your handiwork before running to the next project.  Finally, take care of your pets during a move.  Although one might not realize it, your pet can get stressed out with the change too!  If it is practical, take your pet to your new home several times and keep them with you.   Don't leave them alone at the new place while moving.  Allow them to go back and forth to your new home with you during the move.  Make sure you give them plenty of attention too.  When  we moved, my Siberian husky, Hanah would lay on a folded mattress looking for something that was familiar.  Once we got settled, Hanah then understood that we were not leaving her behind and is living happily ever after ~ contented in her new  "digs".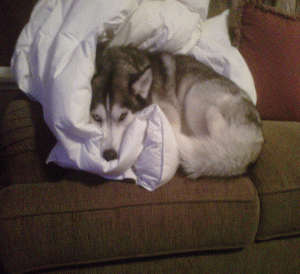 Happy Thanksgiving!