Four-Legged Landscapers Mow Down the Competition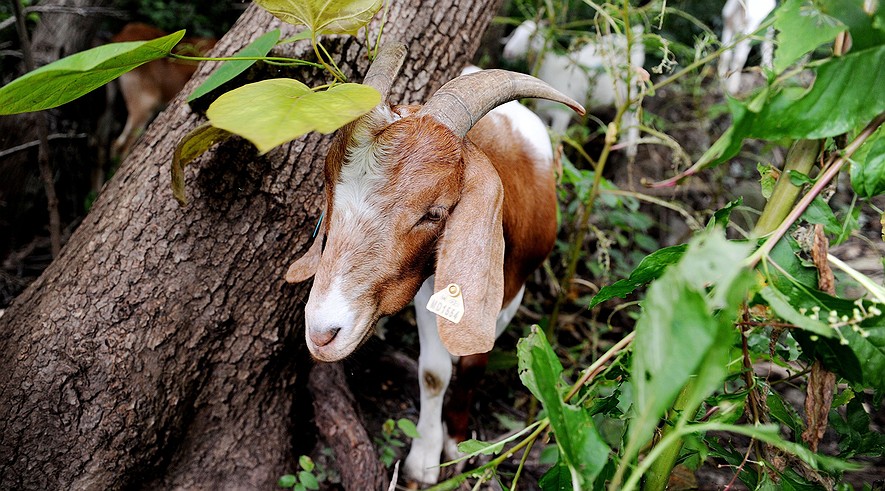 Four-Legged Landscapers Mow Down the Competition
For some property owners, landscaping and maintaining a luscious lawn is one of life's little pleasures. But they may need to step aside to make way for a green and ultra-efficient maintenance plan: goats.
A herd of more than 70 goats owned by the Green Goats and Prosperity Acres farm in Sunderland, Md., will work through October clearing overgrown vegetation on private and public lands.
Owner Mary Bowen says that the herd offers both logistical and environmental benefits. Herbicides and excavations are made unnecessary, thus leaving the ground in its natural state and avoiding the permitting process. And goats enjoy hazardous plants such as poison ivy and poison oak, making areas that are infested with the poisonous plants safer for humans.
Also, says Bowen, there's no debris to dispose of, no pollution from heavy machinery, and, of course, plenty of free fertilizer.
"If we can reduce the amount of herbicides that are used to almost nothing, that's what I prefer, and the goats can obliterate any jobs we've put them on so far," Bowen says.
Brian Knox, who owns Eco-Goats in Davidsonville, Md., agrees. Knox, also president of Sustainable Resource Management Inc., started Eco-Goats after a client wanted to put their livestock to use. The experiment quickly grew into a full-time business, he says.
"I certainly am seeing a lot of inquiries this year from all over the place," Knox says. "I usually get some, but right now it seems that there is way more interest than past years."
Source: "Goats serving as eco-friendly landscapers," Chicago Tribune (5/16/2014)